Now showing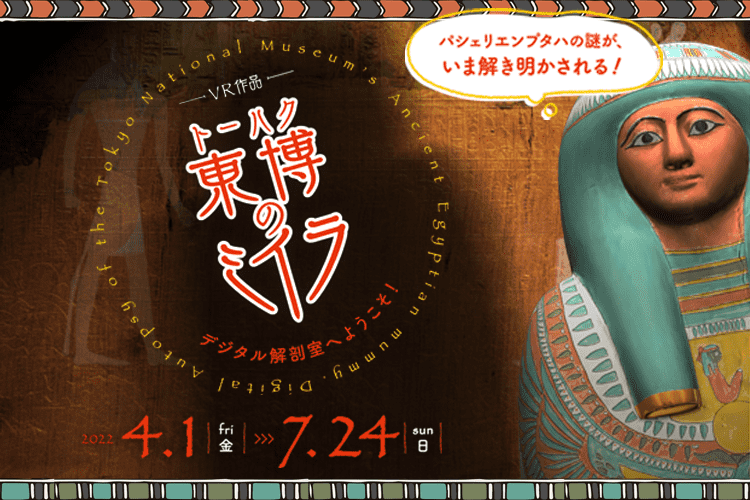 Digital Autopsy of the Tokyo National Museum's Ancient Egyptian Mummy
A three thousand year old mystery is finally revealed!
In 1904, Egypt sent a mummy to the Tokyo National Museum as a gift. What was drawn on the black coffin? Who was the person wrapped in bandages? The truth of ancient Egyptian mummy is now revealed after three thousand years of deep sleep.
Apr 1, 2022 - July 24, 2022
About us
Journey through Time and Space to Discover Cultures with VR
TNM & TOPPAN Museum Theater is a space to experience new ways of appreciating cultural assets with VR (virtual reality). You can feel as if you were actually traveling through a time in history with ultra-high definition 4K images, a large screen that projects cultural assets vividly, and a live session guided by a navigator. Please enjoy discovering new allure of cultural assets.
Visitors information
open (12:00/13:00/14:00/15:00/16:00)
open (11:00/12:00/13:00/14:00/15:00/16:00)
closed
today
Screening schedule
Wed, Thu, Fri
12:00/13:00/14:00/15:00/16:00
Sat, Sun, Holidays
11:00/12:00/13:00/14:00/15:00/16:00
* Running time : about 35 min.
* Screening times are subject to change.
* Admission starts 5 minutes prior to screening.
* You may not enter/exit mid-way through the program.
* Please purchace tickets ahead of screening time. (Tickets are sold on the day only.)
Fee
High school students and above
600yen
junior high school students
300yen

Elementary school students(normally 300yen)

Pre-school children / Persons with disability and one person accompanying them

FREE
* One-time fee per exhibit
* The fee from April 1 to July 24, 2022.
Access
Tokyo National Museum
Toyokan(Asian Gallery)-B1F :
13-9 Ueno Park, Taito-ku, Tokyo, 110-8712, Japan
(JR Line) 10 minutes from Ueno or Uguisudani Station
(Ginza or Hibiya Tokyo Metro Line) 15 minutes from Ueno Station
(Chiyoda Tokyo Metro Line) 15 minutes from Nezu Station
(Keisei Line) 15 minutes from Keisei Ueno Station