Now showing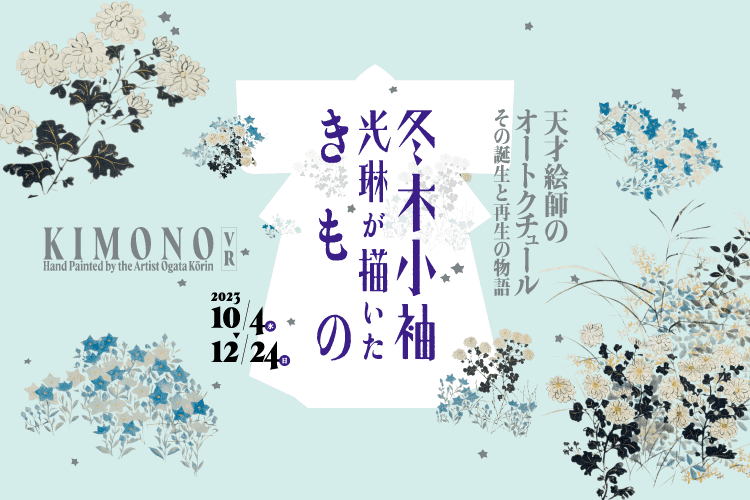 KIMONO Hand Painted by the Artist Ogata Kōrin
To the Dazzling World of Kimono!
Discover the Wonder of Early Edo-Period Clothing Including the "Fuyuki Kosode" Designed by the Master Painter Ogata Kōrin.
This program features Edo-period kosode fashion, while exploring how Ogata Kōrin's unique kosode was created and how it was brought back to life through a recent conservation project.
October 4, 2023 – December 24, 2023
About us
Journey through Time and Space to Discover Cultures with VR
TNM & TOPPAN Museum Theater is a space to experience new ways of appreciating cultural assets with VR (virtual reality). You can feel as if you were actually traveling through a time in history with ultra-high definition 4K images, a large screen that projects cultural assets vividly, and a live session guided by a navigator. Please enjoy discovering new allure of cultural assets.
Visitors information
open (12:00/13:00/14:00/15:00/16:00)
open (11:00/12:00/13:00/14:00/15:00/16:00)
closed
today
Screening schedule
Wed, Thu, Fri
12:00/13:00/14:00/15:00/16:00
Sat, Sun, Holidays
11:00/12:00/13:00/14:00/15:00/16:00
* Running time : about 35 min.
* Screening times are subject to change.
* Admission starts 5 minutes prior to screening.
* You may not enter/exit mid-way through the program.
* We anticipate congestion just before the entrance time. Please purchase tickets as early as possible, well in advance of the show time.(Tickets must be purchased on the day of viewing.)
Fees
High school students and above


* November 8, 2023(Wed) – November 19, 2023(Sun): Visitors dressed in kimono will be admitted to the VR experience for free!

600yen
Elementary school students and junior high school students
300yen

Pre-school children / Persons with disability and one person accompanying them

FREE
* One-time fee per screening
Access
Tokyo National Museum
B1 floor of the Toyokan
13-9 Ueno Park, Taito-ku, Tokyo, 110-8712, Japan
(JR Line) 10 minutes from Ueno or Uguisudani Station
(Ginza or Hibiya Tokyo Metro Line) 15 minutes from Ueno Station
(Chiyoda Tokyo Metro Line) 15 minutes from Nezu Station
(Keisei Line) 15 minutes from Keisei Ueno Station